If only I had known what an easier time I'd have with long hair I wouldn't have been so keen on maintaining my 'Lob' a la Gwyneth all those years.  Though my hair is fine, I have a lot of it and it's pretty straight but I'd have to straighten it in the morning when it was shorter (shoulder-length) to smooth it out.  Now that it's long, my morning hair routine takes all of 3 minutes- I wash it at night or in the afternoon at the gym.  To give it a bit of a wave, I'll usually go to bed with a braid and just brush it out when I wake up so its wavy and a bit messy.  If the roots need a lift, I'll use a little dry shampoo and then I always slather Paul Mitchell Skinny Serum (previously mentioned here) to make the ends really shiny.  And I'm done. 
What I love about this messy up-do worn by Kim Kardashian, is that its pretty much the same style I go for but it's a bit more glamorous since her hair is worn up.  This look is great for day, but I think it would also look really sexy and effortless for a chic nighttime look.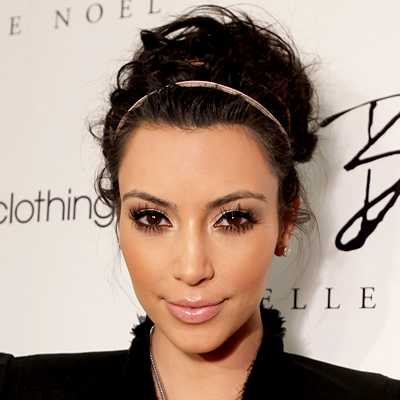 To get the look:
Flip hair over and quickly flip it back to give it volume.  Gather into a high ponytail without smoothing the top of your hair so it's a bit messy and uneven.  Wrap the ponytail loosely around the elastic to make a not-so-perfect bun and secure with bobby-pins.  Spritz with a shine spray, I love Sebastian Halo Mist.  Add a skinny, nude elastic headband for the finishing touch.
Try one of the elastic headbands from LoveBerman on Etsy:
Sebastian Halo Mist Weightless Shine Spray:
xo,
Lauren